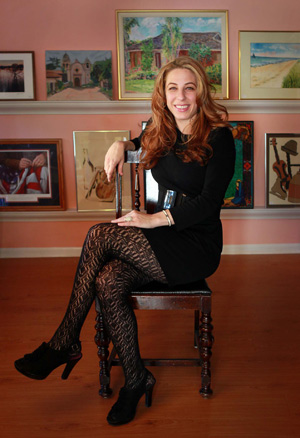 Michelle Parparian
Founder + Creative Director
Some may call Michelle the queen of thrifting, but she just thinks of it as a way of life. She loves the hunt and the high of discovering great vintage treasures. Michelle has been picking and collecting since the age of 5, traveling with her family to flea markets, yard sales, estate sales, fairs and auctions. She grew up manning the counter of her parents bustling North Carolina barbecue restaurant, learning early on that love and long hours are the secret ingredients to success.

She went on to study fashion and fell hopelessly enamored by vintage apparel. She opened her first retail boutique (House of Vintage in Delray Beach, Florida) in 2003, which quickly became a south Florida staple in the vintage/fashion world and recognized nationally by media, television and motion pictures. Her products were featured in Sex and the City 2, Ugly Betty, Elle Magazine, Boca Raton Magazine, Ocean Drive, Southern Living Magazine, Vogue Magazine, Country Living Magazine and many more. In summer of 2010, Michelle closed her retail shop but decided to continue operating her very successful online Ebay store, House of Vintage Inc.

In 2005, Michelle conceptualized Atomic Bettie Productions, a full-service production company specializing in vintage style photoshoots, events, fashion shows + more. She is in charge of a team of photographers, make-up and hair artists, wardrobe stylists, models, graphic designers and assistants. Corporate clients include Revel Resort, Hard Rock Hotel and Casino and Atlantis Resort. The company has been on a sabbatical since 2012, but future restructuring plans are in the works.

In early 2011, she established the business consulting firm, MP Consultants. The company assists new and established small business owners in store planning, operations, visual merchandising, product photography, e-commerce, public relations, marketing and social media.

In 2018 she added Dyed Petals, ultra feminine eco-dyed fashion using natural dyes and colorants.

You can also follow Michelle's vintage adventures on her blog, Vintage Pickers Journal. Jump into the passenger seat and travel around the country with her. She posts photos and videos of her latest vintage finds and share stories of interesting people she meets along the way. If you are in the business world, you can also connect with Michelle professionally on her LinkedIn.
Mrs. P (Michelle's Mom)
Designer + Fabric Artist
Mrs. P's specialty is reworking vintage clothing and transforming it with vintage findings. She also is an expert in different dying methods such as tie dye, dip and ombre.

She is the founder of Boho Branch Studio, a wood and fiber art design studio. She loves Pinterest and is already addicted, so follow her if you are too!